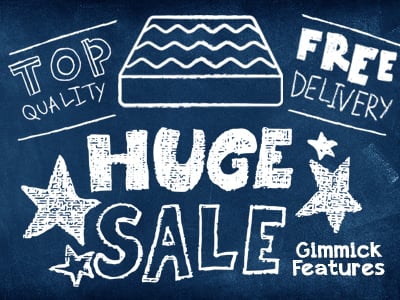 The mattress industry is filled with misinformation. Instead of being honest and transparent in the way they make, advertise, and sell their products, mattress manufacturers and retailers have gone out of their way to confuse consumers.
And because consumers are in the market for a mattress so infrequently, it's easy to fall victim to these common scams. Helping customers avoid these tricks is one of the key reasons our company was founded nearly 30 years ago — to provide a better mattress and a better mattress shopping experience.
So, we're sharing five of the most popular mattress industry tricks:
1. The features with no benefits
Mattress manufacturers and retailers often advertise features that claim to improve or enhance your sleeping experience. In reality, these features are rarely backed by any evidence — but they do add several hundred dollars to the cost of the mattress.
Consumers are often looking for the latest and greatest technology, so mattress manufacturers have tried to meet that expectation with things like foams infused with gel, copper, diamond dust, and more.
The truth is that most mattresses are some combination of innerspring, cotton, foam, and fabric. While the quality of those materials can vary greatly, there's not much "technology" to it.
At The Original Mattress Factory, we stick with what works: hand-built mattresses and box springs using the highest-quality American materials. We are always testing and evaluating new materials in our test center in Cleveland, but we never add a feature that doesn't have a direct benefit to our customer.
2. The "always on sale" sales
Doesn't it seem like mattress retailers are always having a sale? And if it's always on sale, is it actually a sale? But if you're only in the market for a new mattress one weekend per decade, these "sales" make you feel like you're getting a good deal.
Sales are made possible by artificial inflation. If that $3,000 mattress is always "on sale" for $1,500, it's really just a $1,500 mattress. (Actually, it's usually a $750 mattress that they marked up to $1,500, which they then pretended to mark up to $3,000.)
Advertising sales as "today only" or "Memorial Day Blowout," these sales are intended to pressure you into buying so you don't miss out on a deal.
At The Original Mattress Factory, we offer our best price to everyone every day. We've never had a sale in our 30 years of business because we believe everyone deserves a great value, no matter when you're ready to buy.
3. Not-so-interest-free financing and not-so-free freebies
Long-term, interest-free financing, free frames, or free delivery are common incentives that mattress retailers use to close a sale. But the cost of these "freebies" are always included in the markup tacked onto your mattress price.
So, even if you don't need a frame or delivery, you're still paying for it in the cost of your mattress. That doesn't sound fair, does it?
And a closer look at that interest-free financing with terms up to three or five years often reveals that those who choose to pay in cash get a discount. This tells you that the "sale" price of the mattress was actually increased to cover the cost of the extended financing — so you're paying more in the end anyway. Your financing terms for a mattress simply shouldn't be the same length as financing for a car.
At The Original Mattress Factory, we do offer six- and 12-month interest-free financing, but we believe that terms longer than that simply are not in the best interest of our customers. We also don't play the freebie game. We believe in transparent, honest pricing, so you'll never pay for something you don't need.
4. Identical mattresses under different names
When purchasing a big-budget item, it's always smart to shop around and compare prices to ensure you're getting the most for your money. But mattress manufacturers and retailers make that difficult on purpose.
Mattress manufacturers will sell identical mattresses under different label names to different mattress retailers, ensuring that consumers cannot comparison shop to get the best price. They will even offer to price match an item, knowing it doesn't exist anywhere else.
At The Original Mattress Factory, we cut our mattresses open so you can see exactly how they're made. We display them right next to national competitors so you can compare materials, construction, and price to know exactly what you're getting.
5. Reviews you can't trust
Whether you're looking for a restaurant for your dinner reservations or shopping for a big purchase, reviews are a big part of the research many consumers conduct before making a decision.
Unfortunately, many mattress review sites are plagued with conflicts of interest ranging from affiliate links (which pay the reviewer every time someone buys using their link) to sponsorships to being owned by the mattress manufacturers themselves.
At The Original Mattress Factory, we don't pay for reviews, and we certainly don't own any review sites.
Don't get tricked
So, how do you make it through the mattress shopping experience without being taken advantage of by the mattress industry?
Put yourself in the driver's seat. While sales associates can assist you in finding the right mattress, they should not be steering you toward any one product. You should feel free to try out several different mattresses to find one that works best for you, not necessarily the one that pays the most money to the sales associate.
Take your time. Test the mattress of your choice for at least 15 minutes in your natural sleeping position before making your final decision. Don't let anyone pressure you into making a purchase. Only buy when you feel confident you have found the right mattress at the right price.
Ask a lot of questions. Find out as much as you can about how your mattress was made.
Come here first. At The Original Mattress Factory, we love preparing customers for their mattress buying journey. We can help you spot the tricks hiding in plain sight. Whether you buy from us or not, you'll be better prepared to make a smart buying decision. And you will never feel pressured!
Check out Mattress Shopping 101.
Ready to start your mattress buying journey? Come to The Original Mattress Factory first. No one knows more about what makes a mattress great than our team. Whether you buy from us or not, you'll be better prepared to make a smart mattress buying decision. Find a store near you.