Spring is in full swing! That means warmer temperatures, outdoor activities, and extended daylight! Springtime is considered by many as a season for positive change and renewal. What better way to embrace the spirit of Spring than to clean and refresh your home? You may have already cleaned the baseboards and swept under furniture, but have you considered cleaning your bedroom? This sometimes gets overlooked, but is important to help to create a more relaxing and serene sleep environment. Keep reading for some practical tips to clean and refresh your bedroom for Spring.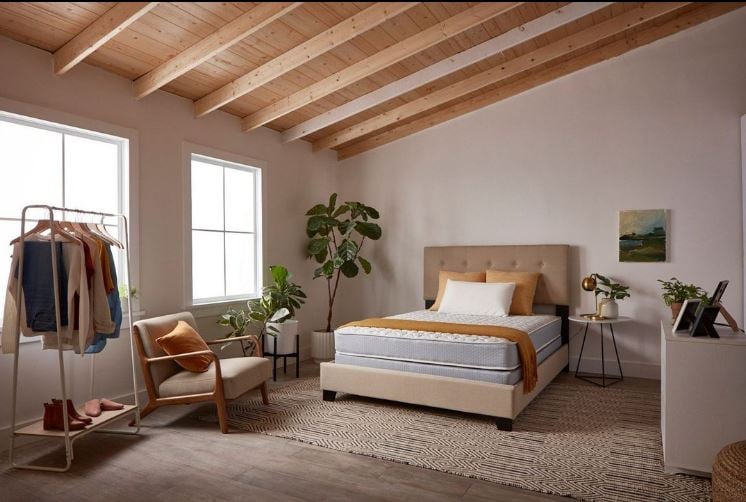 Clean your mattress by vacuuming its surface with the upholstery attachment on your vacuum cleaner to rid it from dander and dust. You can also use your vacuum's crevice tool to get in the tight spaces like the tape edge or tufts. You should never soak your mattress or box spring, or try to dry clean it. The chemicals in dry cleaning agents and spot removers can be harmful to the mattress's surface fabric or underlying materials. If you are trying to remove a stain, use a small amount of mild soap and minimal water to gently dab the area. A great way to protect your mattress and help keep it clean is to use a mattress protector or encasement. You can read more about protectors here. The start of a new season is also a great reminder to flip and rotate your mattress!
Don't forget the pillows! Over time, pillows collect dust, sweat, hair, skin particles, and more. To keep pillows fresh, you should fluff them daily. For lighter-weight pillows like polyester or down, you can air them out by hanging them outside on a clothesline. Some types of pillows, like polyester or down, can actually be washed in a washing machine. Generally speaking, it is recommended to agitate pillows on the gentle cycle for only a few minutes, using a small amount of mild soap. Other, heavier pillows like memory foam or latex are not machine-washable and should be vacuumed and spot cleaned. No matter what type of pillow you use, you should always read the care tag before putting it in the washing machine.1
Clean your window treatments. Using a cotton or feather duster, soft cloth, or cotton glove, remove any excess dust on your blinds before opening them for the warmer weather. There are a few methods for cleaning your curtains. Option one is to put them in you washing machine, on a gentle cycle, carefully adhering to the care instructions. Alternatively, you can lay the curtains on a flat surface and vacuum them using a low-suction setting. If your vacuum doesn't have a low-suction setting, you can secure old pantyhose over the vacuum nozzle with a rubber band prior to vacuuming. Doing so will prevent the fabric from being sucked into the vacuum's nozzle. A third option to remove the dust from curtains is to put them in the dryer on a no-heat or delicate cycle.2
Clean your ceiling fan. There are numerous ways to clean a ceiling fan. One option is to use a specialty brush designed for this exact task. These brushes are circular and typically on a telescoping handle. You can find them in most home improvement and department stores. A different option would be to wipe all blades with an all-purpose cleaner and damp cloth. Perhaps a more inventive approach would be to slip an old pillowcase over the blade, cinch the end, and slowly pull the pillowcase off the blade, removing the dust with it.
Clean your humidifier. Humidifiers are key in preventing eyes, noses, and throats from drying out during winter months. Once winter ends, they should be deep cleaned before storing them away for the summer. Follow these three easy steps to clean your humidifier:
Remove the tank from the base and add either 1 cup of white distilled vinegar or ½ cup each of vinegar and water into the base. Use the cleaning tool that came with the humidifier to scrub off any scale in the well and clean the crevices.
Pour 1 cup each of vinegar and water into the tank, cap it, and let it soak for 20 minutes, swishing or shaking periodically.
Rinse everything until it no longer smells of vinegar and let all parts dry thoroughly.2
Consider introducing a relaxing scent. Top off your bedroom refresh with a pillow mist, diffuser, or air freshener. Choose a scent that you find to be calming. Some common calming scents are lavender, jasmine or rose.
By implementing one or more of the bedroom spring cleaning tips, you are well on your way to enjoying a serene, refreshed, and restful bedroom all season long!
Sources: