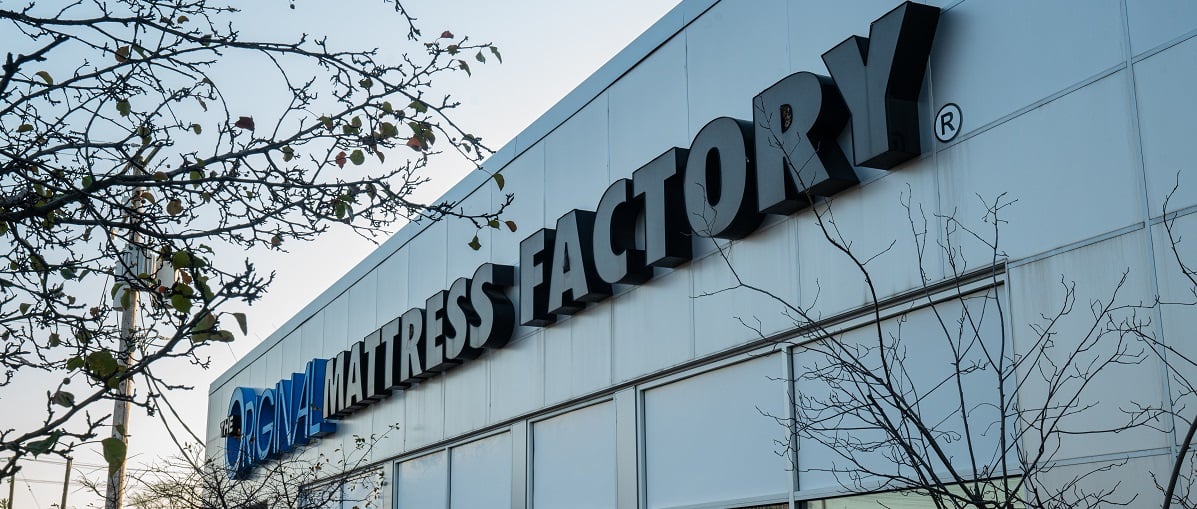 At The Original Mattress Factory, we've always considered ourselves more than just a mattress company. We've always had a strong sense of who we are and what we believe in. We hold ourselves to a high standard because we believe our customers, employees, and community deserve the best. It's all about doing the right thing.
We believe in hand built, American-made quality.
At a time when cheaply-made mattresses are flooding the U.S. market from overseas, we believe that the quality and safety standards of American-made products are more important than ever.
We're so proud of the products we build — and how we build them — that all 12 of our factories are open to the public. You're welcome to stop by at any time to see how we hand build our mattress and box springs, right there in your hometown.
We believe you shouldn't have to haggle to get the best price on a mattress.
We're a factory-direct operation, so we're able to offer our lowest and best price to everyone every day. We hand build our mattresses and box springs and sell them directly to you in our own stores. That means we're able to provide a better-quality product at a better price than mainstream mattress brands. We've never had a sale or offered discounts (outside of the occasional floor model discount) in our 30-year history. That means that you can rest assured you're getting our best price, no matter when you're ready to buy.
We never want you to feel pressured by a today-only sale to make a big purchase. A new mattress is a big investment that can have a big impact on your quality of life. It's important to take your time to find the right fit for you. Whenever you're ready, we'll be here. No haggling required.
We believe our whole team should share in our success.
We are an employee-owned business. Nearly every employee — from the factory to the delivery team to the sales floor — is an owner. That means that our employees take special pride and care in the work that they do. This isn't just any other job — this is their business, too. That also means when our company succeeds, our employees share in that success.
We believe in treating our customers like our neighbors.
Because we've taken a local approach to our business, many of our customers are our neighbors. But whether you're down the street or across the country, we strive to treat all of our customers as if they're our neighbor.
What does that mean? It means we strive to treat our customers with fairness, honesty, and transparency before, during, and after every sale. We're here to help. We're here to solve problems. We're here to provide the best service we can.
Ready to start your mattress buying journey? Come to The Original Mattress Factory first. No one knows more than our team about what makes a great mattress great. Whether you buy from us or not, you'll be better prepared to make a smart mattress buying decision. Find a store near you.