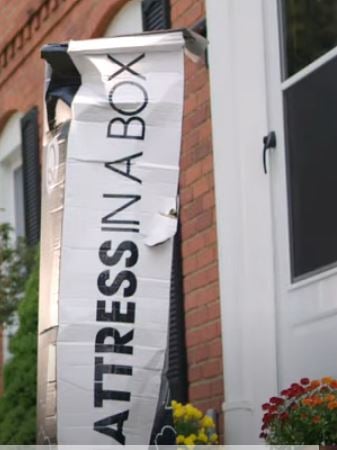 The mattress industry has seen a lot of changes in recent years, with the rise of online shopping and the advent of bed-in-a-box mattresses. While a mattress delivered in a box may seem like a convenient option, The Original Mattress Factory has chosen not to follow this trend. Keep reading to find out why!
Lower Quality and Higher Return Rates
One of the main reasons why mattresses mailed to your doorstep in a box have become so popular is that they're cheaper to produce and ship. These mattresses are often made with lower quality materials, which allows them to weigh less and be more easily compressed. While this may make them more convenient to deliver, it also means they may not provide the same level of support and durability as a higher quality mattress.
Bed in a box mattresses are typically (but not always) made of all foam, which by itself is not necessarily a bad thing. The Original Mattress Factory produces several high quality, all foam mattresses. However, there are different quality levels of foam that a mattress manufacturer can use. The higher the foam quality, the denser and heavier the foam becomes. Mattresses made using lighter weight, lower quality foams can be comfortable at first but may break down more quickly over time. This can lead to a sagging mattress and potential discomfort for the sleeper. In addition, lower quality foam mattresses may trap heat, making them uncomfortable for people who tend to sleep hot. Heat in foam mattresses is generally caused by a lack of air being able to flow through the mattress. At The Original Mattress Factory our high quality Serenity memory foam mattresses are specifically constructed with an airflow layer and open cell memory foams to actively help cool the mattress. Higher quality materials, attention to detail, these are just some of the areas that separate OMF from the competition.
Another reason that The Original Mattress Factory doesn't offer bed in a box mattresses is that they tend to have high return rates. You can't physically try them prior to purchasing, so you are relying on someone else's opinion of how they feel and which one will work for you. As a result, many companies that sell bed in a box mattresses have liberal return policies, allowing customers to return their mattress for any reason within a certain period of time. While this may seem like a great perk, it also means that many of these mattresses end up in landfills which is not environmentally friendly. Additionally, in order to pay for all these returns, bed-in-a-box companies build the cost into their pricing structure, resulting in a higher retail price to the consumer compared to similar quality products.
Why You Should Invest in a Quality Mattress
At OMF, we believe that a good night's sleep is essential for overall health and well-being. That's why we're committed to building top-quality mattresses that will provide our customers with the support and comfort they need for years to come. Our mattresses are made with premium materials, including high-density foam cores, toppers and durable innerspring coils, and the majority of our mattresses are two-sided, so they can be flipped, making them very durable. .
Our mattresses are also built in our own factories and sold directly to you, which means there is no middleman mark-up. This allows us to offer a great value without sacrificing quality. Plus, our mattresses are made to last so they don't need to be replaced as often, creating less waste in the long term.
A good mattress is one of the most important investments you can make in your health and well-being. A quality mattress can help you get a better night's sleep, which can lead to healthier living, and even improve your mood and productivity. For more information on the benefits of sleep, click here to read a previous article on the topic. On the other hand, a low-quality mattress can lead to poor sleep quality, discomfort, and even health problems over time.
While the convenience of having a mattress delivered directly to your doorstep may seem appealing, there are some downsides to the bed in a box model that are worth considering. One of the biggest drawbacks is that, while the mattress may be delivered conveniently through the mail, you'll still have to bring it inside, unpack it, and set it up yourself. This process can be cumbersome and time-consuming, especially if you're not accustomed to setting up a mattress. In addition, bed in a box mattress are often vacuum-sealed and compressed, which means they need time to expand and may have an initial odor that will need to dissipate over time.
At The Original Mattress Factory, we believe that the best way to ensure that you get the most out of their mattress is to provide a full-service delivery and setup experience. That's why we have our own delivery crews who are trained to bring everything inside, set up your new mattress and box spring, and remove and dispose of your old mattress and box spring, if needed. Our delivery crews are also equipped with the tools and knowledge needed to handle any obstacles that may arise during delivery, such as narrow hallways or staircases. This means that you can relax and let us handle the heavy lifting.
If you need your product immediately, our local factory locations keep most standard sizes in stock for immediate pickup. There are very few mattress retailers where can you try it, buy it and take your product home all in the same day. With local production facilities in each city we are in, you could be sleeping on your new bed tonight!
Conclusion
While bed in a box mattresses may seem like a convenient option, they may not provide the same level of quality and durability you are used to. At The Original Mattress Factory, we believe that investing in a high-quality mattress is essential for a good night's sleep and overall health. Our commitment to quality materials and factory-direct pricing ensures that our customers will get not only a great value, but also a great night's sleep on a mattress that will last for years to come. So, if you're in the market for a new mattress, we encourage you to consider The Original Mattress Factory. You can't fit our quality in a box.
Written by: Chris Gardner, OMF Marketing