At The Original Mattress Factory, we hand build all of our mattresses and box springs at our 12 factories around the U.S. We strive for transparency in every part of our business, so we wanted to share exactly how we build our mattresses, step by step.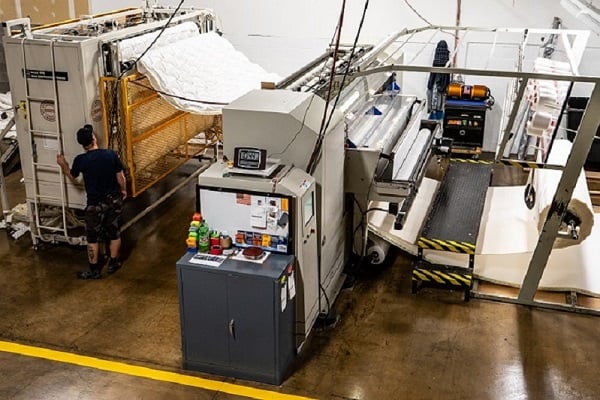 Quilting
One of the first steps to building a mattress is quilting the top layers of the mattress. Quilting combines unique combinations of layers of foams, fibers, and fabric. Different mattresses also get different quilt patterns — wider and more open patterns for soft mattresses and tighter, smaller patterns for hard mattresses.
Once these layers are quilted together, a roll is cut into a variety of mattress sizes and it's ready for the next step: flanging.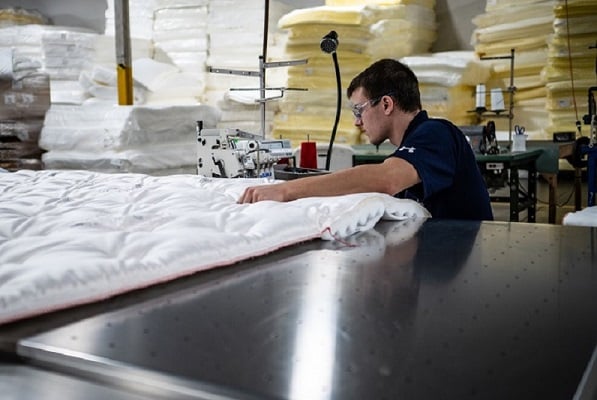 Flanging
At the flanging station, the edges of the quilted layers are trimmed and sewn shut and a flange — a bit of extra fabric that allows the top layer to be fastened to the innerspring — is added.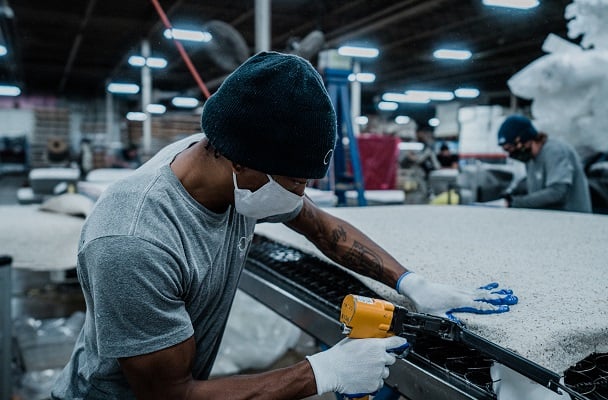 Pin up
The pin-up station is where the mattress is assembled by hand. We start with a bare innerspring. Our innerspring units vary depending on the mattress line, but they're all manufactured in the U.S. using recycled steel. The team adds layers of cotton, fiber pads, and foams according to each mattress' specifications. Then, they add that quilted top layer, fastening it to the innerspring with the sewn-on flange to hold all of the layers in place.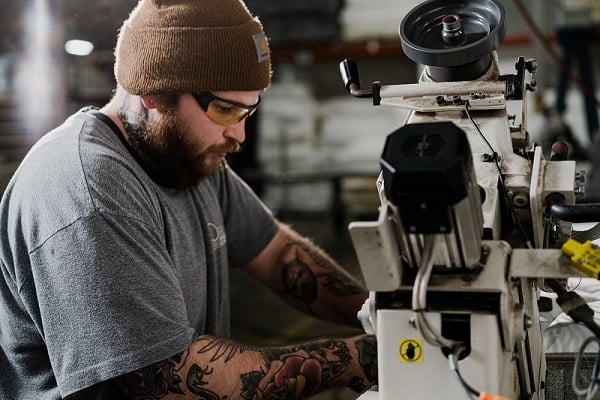 Tape edge
Once the mattress is assembled, it's time to sew it shut. This happens at the tape edge station. The tape edge machine is a special sewing machine that sews the top and sides of a mattress together using a woven tape. It requires the operator to walk backwards around the mattress as they sew. This position requires a lot of attention to detail. Once this step is completed, your mattress is ready for inspection and packing.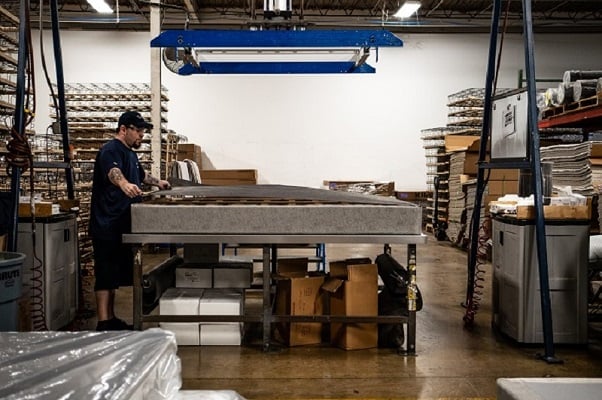 Box springs
We don't just build mattresses — we also hand build our box springs.
Our box spring bases are hand built for us by our Amish partners. Our box spring frames use about 60% more wood than mainstream brand foundations. Additionally, our box springs utilize flexing modules that are designed to act as a shock absorber for the mattress. Mainstream brands use a rigid wire grid that does not flex. We hand sew the covers, and then assemble the box springs and covers. We use a special press that compresses our flexing box springs while we fasten the cover onto the base. This press ensures that the cover will fit snuggly once the pressure is released.
Tour our factories
Want to see the process for yourself? All 12 of our factories are open to the public. Whether you're in the market for a new mattress, looking for a fun group tour activity, or just curious about how mattresses are made, we invite you to stop by.
Ready to start your mattress buying journey? Come to The Original Mattress Factory first. No one knows more than our team about what makes a great mattress great. Whether you buy from us or not, you'll be better prepared to make a smart mattress buying decision. Find a store near you.