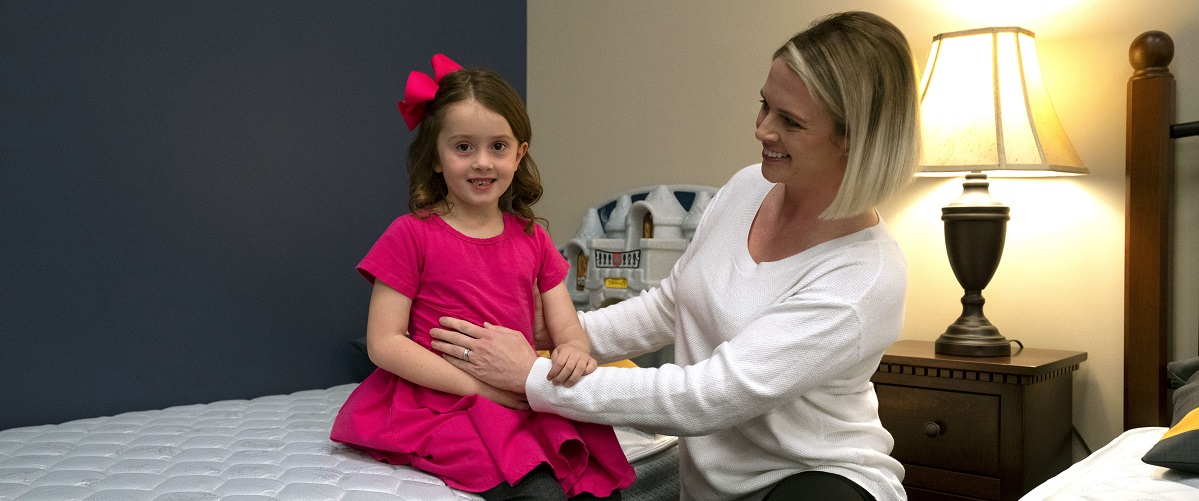 When your child is ready for their first "big kid" bed, you may be a bit nervous about how they'll handle the transition. But there are a few things that you can do to help make that transition as smooth as possible, and The Original Mattress Factory is here to help!
Come tour our factory
A big change can be scary for a child, but making it a fun experience for them may help with the transition to a big kid bed. All 12 of our factories are open to the public, so your family is welcome to stop by at any time for a tour so your child can see how their mattress is made. Our manufacturing team is typically producing every weekday, but you can reach out to your local factory to find out their production hours.
When it comes to shopping for and selecting a mattress, all members of your family are welcome in our showroom. We encourage you to take your time to find the right fit. We recommend starting with our Classic and Regency lines when shopping for the younger members of your family.
Our factory locations will also have most models in most standard sizes available for same-day pick-up, which is a convenient option, particularly for smaller mattress sizes.
You don't have to sacrifice on quality
Just because you're shopping for a mattress for a child doesn't mean you have to sacrifice on quality. Even with our most affordable options, there's no reason your child's mattress can't last for many years to come if it's cared for properly.
All of our mattresses provide adult-level support for every night use. Most of our mattresses are two sided, so they can be flipped and rotated regularly. And all of our mattresses pair with real working box springs which act as a shock absorber for the mattress and improve long-term comfort and durability.
How to care for your child's new mattress
Here are our top tips for making sure your child's new mattress lasts as long as possible:
No jumping on the bed. As much fun as it can be, we strongly discourage jumping on your mattress — even for small children. The mattress and box spring are not designed to take intense, focused pressure and could be irreparably damaged by jumping or slamming down on the mattress.
Use a mattress protector. A high-quality, waterproof mattress protector can help keep the mattress clean and safe from spills or accidents. You could also use a full mattress encasement, which covers all sides of the mattress and closes with a zipper and zip tie to keep any pests away.
Flip and rotate regularly. If you selected a two-sided mattress for your child, alternate flipping and rotating the mattress every three months. If you selected a one-sided mattress, you can simply rotate it from head to foot every three months. This process will help minimize body impressions and improve long-term comfort and durability.
Remember that you don't have to make the transition all at once. Setting up a mattress, box spring, and frame can be overwhelming for both parents and children alike due to the height. You can start with just the mattress on the floor. When everyone is ready, add the box spring. Then you can add the frame as your child adjusts.
Ready to start your mattress buying journey? Come to The Original Mattress Factory first. No one knows more than our team about what makes a great mattress great. Whether you buy from us or not, you'll be better prepared to make a smart mattress buying decision. Find a store near you.